Who are we?

Asian Aid is a Christian, non-profit organisation that gives hope through education, advocacy and health care to disadvantaged children and their communities.

DONATE NOW

and help stop uterine prolapse in rural Nepal for good.

Child Sponsorship

Asian Aid helps give hope to over 9000 children in schools throughout Bangladesh, India, Nepal and Sri Lanka.

Fighting Slavery

Asian Aid believes no one should be bought or sold. Support the Fighting Human Trafficking Project In India today to help end slavery.

Empower a community by donating to an Asian Aid project of your choice.

A hard-cover photography book that reveals community spirit, optimism and determination in Asia and fundraises to stop human trafficking in India.

HELP – Indonesia

Asian Aid's Health and Education Lifestyle Project (HELP) transforms lives of young Indonesians through valued English classes.

Youth Empowerment Slum Project

Empowering disadvantaged youth in slums through sports programs, education and valuable life-skills.

Children's Homes Nepal

Gift orphaned and disadvantaged Nepalese children with a home.
Asian Aid provides education to children and young adults in disadvantaged communities, assists Nepalese women suffering from uterine prolapse, leper communities, special-needs children, trafficked girls and women, slum communities, the sick and the very poor. We seek to alleviate poverty, to empower, to advocate and to give hope.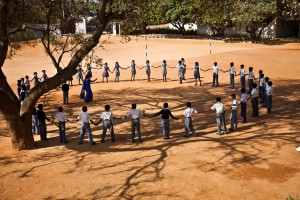 Asian Aid has been changing lives and giving hope to the poor since 1966.
Child Sponsorship gives hope of a better life to children throughout Asia.
Asian Aid projects enrich people and their communities.
Recent News
On 20 August, four Port Macquarie locals joined forces to raise awareness for Asian Aid on the squash court.
It was a memorable week of celebration in Central Lombok, Indonesia, as families, community members, and friends gathered to acknowledge and celebrate the H.E.L.P English Program graduates from the local Muslim junior and high schools.
Journey through the 2014 Annual Report and see how your support has made a positive difference in the lives of vulnerable people.
Get Involved
"I enjoy knowing that such a small amount of money each month can make such a huge difference for these children… I realised what a huge amount of money $10 is to people".

Karen McCall - Sponsor of two children
"Teaching in my own culture is fun, but teaching English in Indonesia is life changing. The trip affirmed my calling and passion to this kind of work."

Neil Greenwood - Volunteer for HELP - 2012
Create your own story!
We believe hope finds its truest expression when given and received in community. That's why we need you to help us empower others. Pray, fundraise, volunteer, advocate and/or become an ambassador: there are many ways to get involved.
Find out more about getting involved or contact us to share your ideas.