(Last Updated On: September 8, 2022)
Did you love playing sports at school? Research proves that sports help children develop physical skills, get exercise, make friends, have fun, learn teamwork, learn to play fair, and improve self-esteem. At our programs in South India, we introduce sports to young boys and girls from slum and at-risk communities as a means of learning good behaviour, life skills, and teamwork.
Children learn from what they witness at home and around them. Children from the slums and at-risk communities have fun and gain a sense of belonging through sports. Their education is monitored, they learn from positive role models, and they are provided with good nutrition after each practice session. Your support has helped us provide coaching, nutrition, kits and helped teams attend tournaments. Here are some of the achievements of the young champs from our hubs.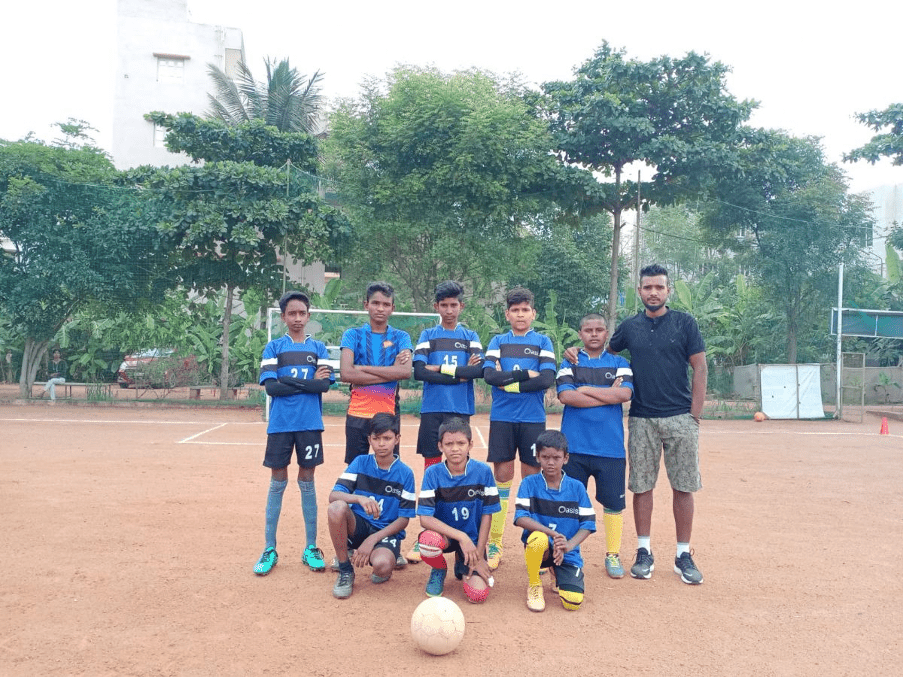 The football programme in Bangalore, helps children use their time constructively in learning professional football and keeps them away from being idle. With the on-boarding of our new football coach, Mr. Edwin, there have been great improvements to this programme. Our coach began by teaching them the basic drills and the importance of being disciplined in following time and routine.

Here's what every day looks like for the boys on our football team.
6:30 am to 8 am practice for children aged 14 and under (Mondays, Wednesdays, and Fridays)
Supplementary nutrition is provided after practice.
Life skills sessions on teamwork, self-discipline, being healthy, following traffic rules, puberty, etc. (Tuesdays and Thursdays)
Counselling support for individuals as per the need or parent/coach's request.
Regular home visits to build rapport with parents.
The teams also often go to local and big-league tournaments to observe or to be a part of them. Our under-12 football team in Bangalore played matches against professionally trained teams—the Bangalore Arrows Football Club and Sports Village Quarters Football Club. The boys bagged the runner-up medal in this very challenging game. All of these experiences build individuals with resilience and confidence.
Author:
Pudens Isabel
One part writer, one part photographer & two parts traveller… Three years ago I decided something needed to change, so I quit my corporate job and started working for Asian Aid from my home in India. I travel to projects and schools we support in India and Nepal, bringing you their stories through words, photos and video. Since then I have been visiting Asian Aid projects with my camera and notebook in tow, to bring pictures and stories from the field to you.