(Last Updated On: September 1, 2021)
Deekshith's teachers describe him as an intelligent and diligent student. He is a boy of great zeal and ambitious in his studies and work. He prioritises his class work and enthusiastically revises all his lessons taught throughout the day. He is currently in fifth grade.
Deekshith was abandoned as a child and was moved around between the homes of family members. He was taken in by his uncle who took care of his basic needs and education. Unfortunately, his uncle passed away a year ago due to a heart attack. He then came to live with his grandparents who did not have the means to pay for education.
Last year, his grandmother was overwhelmed with joy to find out that Deekshith had been accepted into the Asian Aid sponsorship program. She is very thankful to his sponsor and to Asian Aid for the generosity they have received and for providing the support their family needed at just the right time. Deekshith says that his grandparents live a kilometer away and every day his grandfather walks him to school.
Deekshith is a confident student who is admired by his teachers. He is great at sports and enjoys participating in all the athletic events the school runs. He particularly loves to play cricket and is a strong batsman. He expresses how much he misses being able to play sport in school because of lockdowns. He misses his classes, teachers, friends and school environment a lot.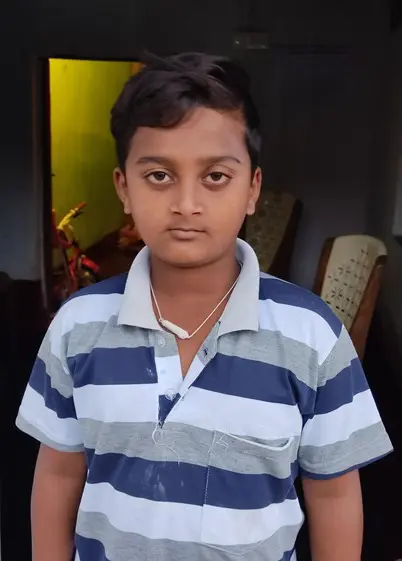 He enjoys learning about history, particularly the histories of kings, dynasties and the battles they fought. His favourite colours are red and yellow because they are on his state's flag. His favourite dish is semya paisa (a sweet dish made from vermicelli) which he often asks his grandmother to make for him. One day he would like to be a police officer and serve his community.
Deekshith and his family live in a place called Kollegal, which is also known as Silk City as it is famous for its handloom silk saree industry, attracting traders from across the state. His neighbor has helped him by providing resources so he can attend online classes. During lockdown he has been completing these classes as well as drawing and playing indoor games.
Deekshith is passionate about using his opportunity to be given an education as best he can and building his future in a way that benefits his family and community.
Author:
Jacinta Franks
Jacinta is a communications graduate with a passion for exploring and sharing the world. She works in helping stories come from our projects to you.