(Last Updated On: August 26, 2019)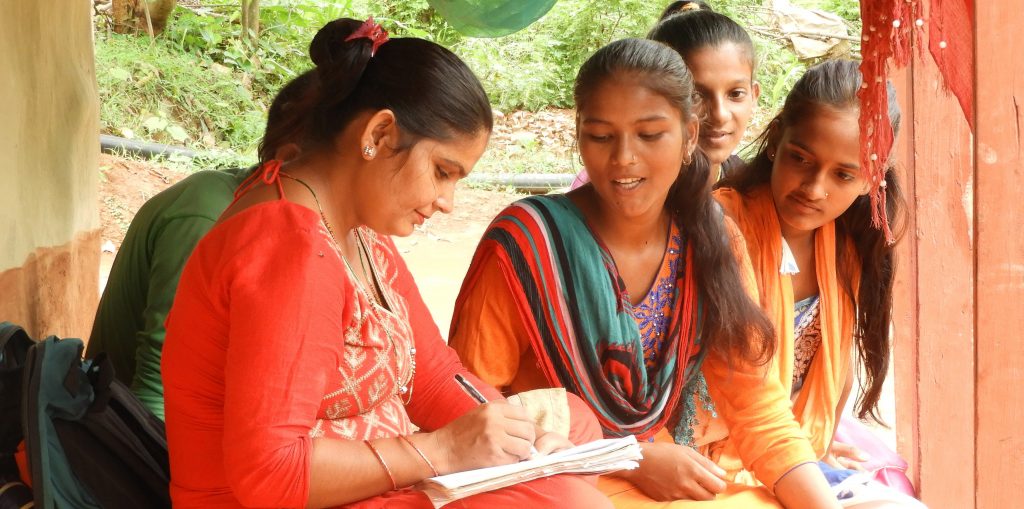 Investing in children, particularly girls at a young age, is certainly bringing positive results to our program in Nepal.

Our partners at CAED are seeing several positive outcomes in addition to their goal of independent learning.
"Children themselves say that they feel recognised, are receiving love and care, becoming responsible and education-focused," says Sumesh Bhattarai, CAED's Regional Program Coordinator. "Girls are demanding time to study at home and becoming aware of child rights, life skills and gender equality."
Children are speaking up, engaging in class and sharing not just their learnings but their opinions with parents and siblings at home. In our community, many children have been successful in bringing an end to harmful traditional practices such as child marriage, menstrual restrictions and isolation in their own families. Talking about adolescents' reproductive health is no longer a social taboo anymore at home or school.
Cultural change has been extensive and offered to parents, siblings, teachers, the community and policy makers too. Teachers are not hesitant to share lessons on adolescent sexual health and reproductive health (ASRH). Parents are taking an interest in their children's studies, providing them meals on time and encouraging them to go to school regularly. They now take part in parents' programs and meetings to end child marriage and promote gender equality.
Tegan, a change agent in Grade 7 in Rakam, Nepal, says, "I am very happy that my mother now comes to school to see how I am doing and interact with my teachers. This has happened due to the Good Parenting Skills training and regular household visits by CAED staff."
Manisha, a peer educator in Grade 10, says, "I am now not hesitant to talk about ASRH issues with my friends. I have also shared what I know about menstrual hygiene management and the consequences of child marriage with my friends and relatives."
As a result of discussions during training sessions, two girls from Dailekh and Surkhet, and one boy from Dailekh went back to school. Similarly, three girls from Surkhet have started staying inside their house instead of living in a menstrual hut during their period. Peer educators in one school in Surkhet made 100 reusable sanitary pads so that their classmates could come to school regularly during their periods.
As a result of multiple staff visits to change agent homes and health awareness sessions in the community, 210 women went to hospital to give birth last quarter instead of giving birth at home. In those households visited, 43% of husbands now take part in sharing household work with their pregnant or postnatal wives.
With such encouraging outcomes, we anticipate further improvements in decreasing the number of school drop-outs, further reintegration, life-skills training, adolescent health and making life better for all.
Our key learning is that to make significant change we need to address child, girls, women, gender, and health rights issues holistically.


Author:
Pudens Isabel
One part writer, one part photographer & two parts traveller… Three years ago I decided something needed to change, so I quit my corporate job and started working for Asian Aid from my home in India. I travel to projects and schools we support in India and Nepal, bringing you their stories through words, photos and video. Since then I have been visiting Asian Aid projects with my camera and notebook in tow, to bring pictures and stories from the field to you.