At Asian Aid, we believe positive, permanent change happens only when people and communities partner to empower each-other. In this section, you will find several
resources

that you can use to educate others about the work of Asian Aid. The ultimate goal of resource sharing? To empower you to share the plight of vulnerable people and communities so that others can catch the same vision of giving hope today for the future.
Fundraising Resource Pack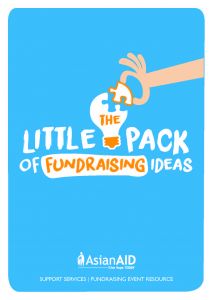 This fundraising pack is a useful guide for any supporter who has an interest in raising funds for Asian Aid. Through the helpful tips, steps and many creative fundraising ideas, the resource can be used and shared to assist with all fundraising initiatives. We hope this information pack will help make any fundraising event for Asian Aid that you run, or assist with, a success. Please download a copy of the Fundraising Pack or visit our fundraising page for more information.
The Silent Cries book, written by Rama Basnet, director of Asian Aid's parter CAED, is a compilation of real-life stories of Nepali women who have found healing in the midst of suffering. The book is available as a FREE DOWNLOAD.
Seasons of Hope is a photography book that highlights snippets of life in India, Bangladesh and Nepal. The photographs speak of beauty, determination and hope. Funds raised from the sale of the book support Asian Aid's fight against human trafficking. To purchase a copy of the book for $25AUD click this link.
Your Legacy of Hope is Asian Aid's official Wills and Bequests catalogue. This e-book includes information on the benefits and processes of leaving a bequest to Asian Aid. Alternatively, to download a copy of the book click this link.
The Hope in Motion video suite features stories about Asian Aid-supported schools and projects in India and Nepal. Filmed from 2010 to 2012, the videos in this series depict the life-changing impact that hope has on people and communities.
The Life of a Nepali Woman is a short film – suitable for mature audiences – about the challenges that rural Nepali women face when upholding their rights. Produced in 2014 by one of our Nepali partner organisations CAED, the subject matter is not suitable for young viewers.
A Rural Advocate of Women?s Health is a short film – suitable for mature audiences – that depicts Sita?s experience. Sita was one of the first uterine prolapse patients that COSAN, one of the Asian Aid?s partner organisations, helped. Produced by COSAN in 2014, the film?s subject matter is not suitable for young viewers.
Music
'Huggles and Heartsongs' is a music CD of 20 songs and lullabies to captivate a child's heart. Whether played during the day or at bedtime, these songs will become children's favourites. Funds raised from this CD will give hope to children in need of love and care through Asian Aid's Hope in Communities Program. Produced by song-writers Kylie Stacey and Coralie Fraser, the CD features singers and artists Melinda Crevar, Peter Dixon, Danii Marsters, Christie and John Venegas and Rebekah Weslake. Click here to purchase the album for $15AUD.


Song Teasers
Forever (Artist – Melinda Crevar)
Close Your Eyes (Artist – Rebekah Weslake)
Day is Done (Artist – Christie Venegas)